Content
Nature and Seaview land available for purchase in Sogut Marmaris, Sogut





The plot is surrounded by a serene view of the ocean and is surrounded with almonds. The plot is 1360 square meters with a stunning sea view.





The beautiful parcel of land is situated within Sogut, Marmaris. It is situated near Marmaris' main highway and the town's central area. Sogut is situated to the southwest coast of Marmaris, located at the extreme edge of the Bozburun peninsula. It's about 40 kilometers from Marmaris. It is possible to see from Marmaris the Greek island of Simi near Sogut. The landscape is breathtaking, especially at sunset. There are restaurants and hotels within the region. Every day you will find eggs, organic milk, and even vegetables from a villager. Because of the climate, you can grow tropical fruits.





A well-situated investment to build your dream house with views of the ocean and forests. You can build two villas.





To be sold together with Marmaris Investments new on the market, priced at $625000





Why Buy This Property





*Seaview plot of land available for purchase located in Sogut, Marmaris





*Perfect for building an independent family home.





*An excellently priced parcel of land with sea views located in Sogut Marmaris





*Close to town center, and access to the beach.





Access for the road main.
Overview
Purpose:

For Sale

Sale price:

$625.000

Land area:

1360ft2
Location
Location: Villages, Sogut


36.663016
28.104651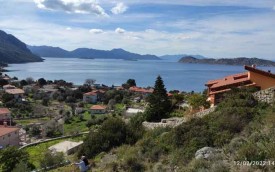 View
2000
WALKING
km
en
15
100%
400px
https://realestateinmarmaris.com/wp-content/themes/nexos/assets/img/markers/empty.png
20
54.5
Distance
Address
Walking time
min
Details
Overview
Address:

marmaris sogut

Purpose:

For Sale

Sale price:

$625.000

Land area:

1360ft2

Views counter:

49