ABOUT MARMARIS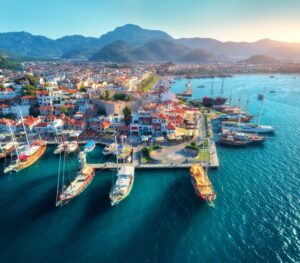 Marmaris is a very attractive and popular spot on the southern Aegean coast, with its distinctive features, position, and charm. Many people from Turkey and worldwide have been drawn to Marmaris because of its unique beauty, location, and characteristics.
Marmaris is a metropolis that attracts people from all walks of life and gives them new life through its clean air, glass-clear beaches, numerous caves to be discovered where blue and green are intertwined, historical sites, well-preserved mountains, and green forests. Marmaris is surrounded by mountains and is not accessible to growth or overcrowding; it always offers peace.
With its modern and developed hospitals, shopping centres, and entertainment centres, Marmaris makes you feel many features of contemporary life while still feeling like a fishing town. However, despite its changing architectural architecture, the photos of people selling their fresh goods in the markets, and the local folks who can welcome you even if you drop by unexpectedly and have never met them before, Marmaris still has an old fishing town atmosphere.
Because Marmaris does not allow more than two or three levels of construction, it does not acquire a congested and disturbing appearance like that witnessed in Spain and many other nations due to tall buildings over time.
Marmaris is a semi-tropical region with rain in certain months of the year, and the air temperature approx from 10 to 20 degrees Celsius. In many days after a rainfall that you can smell the earth's surface, there is bright weather where you may go out and walk about in a short-sleeve shirt.
The best time to visit is between the first of April and October. During April, May, and June, temperatures range from 30 to 35 degrees, with summer temperatures reaching 45 degrees in July and August. In September and October, temperatures are between 30 and 35 degrees, while in November and December, they vary from 25 to 35 degrees with light rain.
Its ancient stadiums, theatres, and royal tombs carved into ancient mountains, caves, and unearthed settlements dating back to BC and beyond may be seen in these areas where different civilizations have reigned for thousands of years. It provides exceptional experiences to people interested in history.
Its many features, such as hiking and cycling trails in the mountains and forests, beaches for walking and running, and magnificent canyons, cater to people who enjoy nature.
The lovely, bright and tranquil Marmaris, which is home to Turkey's largest marinas and contains some of the country's most appealing bays, has many quaint green coves with its aquamarine sea, several of which are practically hidden. Gulets, ancient large sailboats (between 15-40 meters) unique to Marmaris and formerly used to fish in the past, have been modernized and converted for daily and weekly excursions. These boats, which have a big hull surface area, may accommodate many people on board and places for sunbathing and dining.
People who do not want to pay for a private rental wish to charter a more budget-friendly cabin cruise. They may rent air-conditioned and modern cabins for 1-2 or 3 people, where they can meet many different individuals from various countries, develop friendships, and return home with unforgettable memories and experiences.
Restaurants with various cuisines include Thai, German, Indian, and Italian. You'll discover many different baked goods in bakeries; you can eat there or take them home to enjoy later. Take advantage of these events before and after your meal by providing dough-based arts & crafts projects for children!
With its illustrious bar Street, live music, discos and clubs for young people and those who feel young, Marmaris has a vibrant nightlife. Most of these places are old homes built when Marmaris was founded with classic and historic architecture.
Marmaris residents are kind and helpful, and you'll frequently encounter individuals you don't know who is smiling and greeting you as you begin the day. Many times, even if you ring their doorbell, locals will invite you in for traditional Turkish tea or coffee.
Because Marmaris is a major draw with its geographical limitations that prevent growth, demand for housing increases daily, many individuals worldwide, including in Europe, acquire many properties such as holiday homes, villas, village houses, and hotels for investment. Depending on their features and locations, all of these real estate assets appreciate at rates ranging from 20% to 40%.
Marmaris is also recognized for excursions on traditional Turkish gulets, boat-like vessels that ply the Aegean Sea's uniquely lovely bays.
Please click the link to get more information about yacht and gulet charter.