Bodrum A Stunning Seaside Destination on the Aegean Coast of Turkey
Bodrum is a breathtakingly beautiful seaside town on the Aegean coast of Turkey. Known for its stunning beaches, turquoise waters, and charming bays, Bodrum has long been a favorite destination for tourists and residents alike. Whether you're looking for a peaceful getaway, a vibrant nightlife, or a place to call home, Bodrum has something for everyone.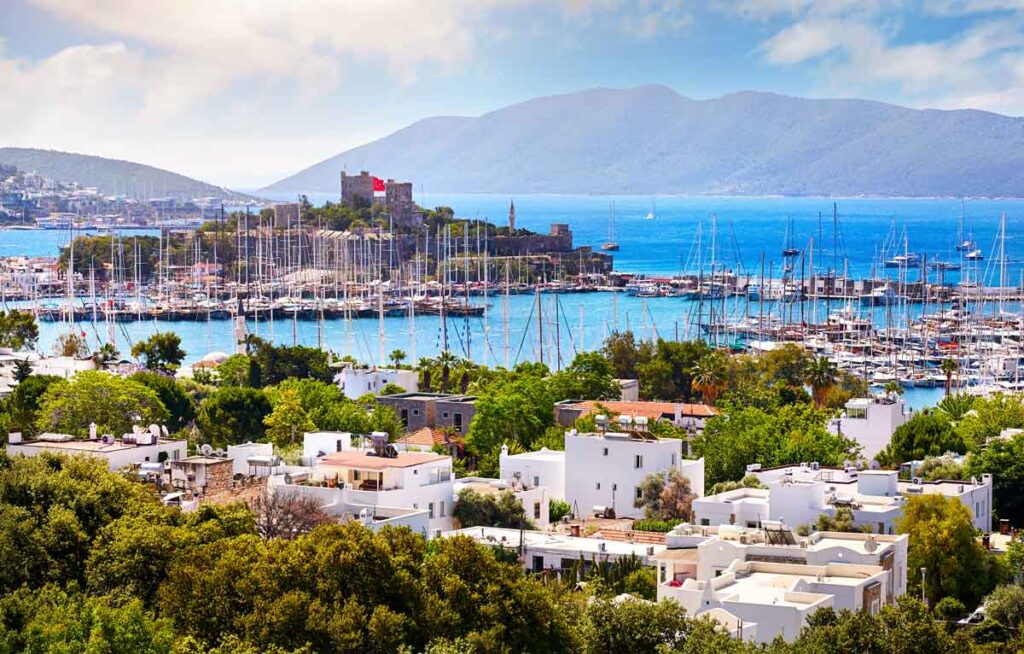 Here are just a few of the many reasons to fall in love with Bodrum:
Stunning Beaches: Bodrum boasts a wide variety of beaches, from secluded coves to long sandy stretches. Whether you're looking for a place to relax, swim, or soak up the sun, you will find the perfect spot in Bodrum. Some popular beaches include Ortakent Yahsi Beach, Bitez Beach, and Gumbet Beach, each offering something unique and stunning.
Vibrant Culture: Bodrum is a hub of cultural activity with a rich history dating back to ancient times. From the ruins of the ancient city of Myndos to the Bodrum Castle and Museum of Underwater Archaeology, there's plenty to explore and discover in this charming town. Bodrum is also home to numerous festivals and events throughout the year, such as the Bodrum International Ballet Festival and the Bodrum Cup Yacht Race, showcasing the town's vibrant cultural heritage.
Thriving Nightlife: Bodrum is known for its lively and energetic nightlife, with many bars, clubs, and restaurants. Whether you prefer to dance the night away or relax with a drink, you're sure to find the perfect spot in Bodrum. The town's famous bar street, Bar Street, is a must-visit for those looking to experience the town's legendary nightlife.
Tranquil Lifestyle: Despite its bustling atmosphere, Bodrum offers a tranquil and relaxed lifestyle, with plenty of opportunities for relaxation. Whether you're soaking up the sun on the beach or exploring the lush hills and valleys of the surrounding countryside, you're sure to feel at peace in Bodrum. Bodrum also offers a range of wellness options, from yoga and meditation to spa treatments, helping visitors and residents find their inner peace.
Affordable Real Estate: Whether you're looking for a holiday home, a rental property, or a place to call your own, Bodrum offers a wide range of affordable real estate options. With its stunning scenery, friendly locals, and excellent quality of life, Bodrum is the perfect place to invest in property. The town's real estate market offers a variety of options, from traditional Turkish homes to modern apartments, ensuring there's something for everyone.
So, look no further than Bodrum if you're looking for a seaside escape, a thriving cultural hub, or a place to call home. Contact us today to learn more about this stunning town and start your journey to your dream life in Turkey. With its breathtaking beauty, rich cultural heritage, and thriving lifestyle, Bodrum is a must-visit destination you'll never forget.